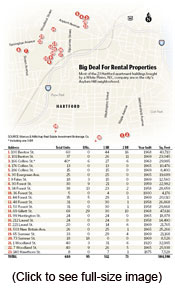 A Wager On Hartford

New York State Firm Buys 23 Apartment Buildings In $30 Million Investment

January 4, 2005
By KENNETH R. GOSSELIN, Courant Staff Writer

A New York real estate company has purchased hundreds of apartment units just outside downtown Hartford, betting that the city's star - and their investment - will rise.

Houlihan-Parnes Realtors, based in White Plains, N.Y., paid $30.3 million for 680 rental units in 23 buildings, mostly in Hartford's Asylum Hill neighborhood, according to the broker involved in the Dec. 30 sale.

The purchase is the latest example of private dollars coming in behind state-sponsored redevelopment in downtown Hartford.

Real estate experts say the city is also becoming viewed by outside investors as a lower-cost investment option, compared with New York and New Jersey.

The apartment deal announced for Hartford Monday was at the higher end of recent sales because the former owners - the Whitehouse family of Glastonbury - were meticulous about interior and exterior maintenance, said Steve Witten, a broker at Marcus & Millichap in New Haven, which handled the sale.

The sales price valued each unit at an average of $45,000, or about $10,000 higher than the average for recent apartment sales in the city, Witten said.

"Nothing of this quality has come on the market in the city for quite some time," Witten said.

Overall occupancy is 96 percent, just slightly above averages in the low 90s for most of central Connecticut.

The sale also represented the largest apartment sale by price in Hartford County in 2004.

The new owners say they have no plans to raise rents "in the short term." But they would not be more specific about the time frame.

"We didn't buy to come in and raise rents," Robert Turbizi, of Houlihan-Parnes, said Monday. "We're going to monitor the market. You're not able to raise rents exorbitantly, or you'll price yourself out of the market."

Rents in the building now range from $575 for studios to $800 for two-bedroom apartments, most including heat and hot water.

Real estate experts said Hartford is becoming a more attractive market for apartment investors, especially from New York, where properties are much more expensive.

"New Yorkers are identifying Hartford as a growth market," said Mike Stone, an apartment expert at CB Richard Ellis in Hartford.

"It's been depressed for a long time, and now something is happening."

The convention center at Adriaen's Landing is scheduled to open in June, and is viewed as the catalyst for downtown's economic revival.

Stone said the apartments purchased by Houlihan-Parnes won't be in competition with those under construction in the city's central business district because they are not considered "luxury."

The portfolio of apartments was owned by the Whitehouse family of Glastonbury, which includes Richard Whitehouse, his son Todd and his son-in-law, Brian Marquis.

The family built its apartment holdings beginning in 1978, with its first purchase at 221 Laurel St., Richard Whitehouse said Monday.

Whitehouse said the family has managed in a strong hands-on tradition, keeping up with repairs and regular maintenance.

Whitehouse said the decision to sell came because the apartment market has gained strength in recent years, making it attractive to buyers.

"Things have come around in terms of price," Whitehouse said. "We decided to make an exit to do other things."

Whitehouse, 58, said that could include purchases of other apartment properties outside Connecticut.

After 30 years, the time had come to be less hands-on.

"Maybe South Carolina," Whitehouse said. " A place where you would visit once a month."

Reprinted with permission of the Hartford Courant. To view other stories on this topic, search the Hartford Courant Archives at http://www.courant.com/archives.