May 20, 2007
By DANIEL E. GOREN, Courant Staff Writer
Jacob Folson, the owner of Clothesline Laundromat on Hartford's Blue Hills Avenue, saves money by turning his lights off and sitting in the dark when business is slow. He feels panicked when he thinks that his impending property tax bill is expected to climb 60 percent - more than $5,000.
Folson says his best option may be turning the lights off for good and locking the door.

Gordon Bonetti Florist, a fixture in Hartford since 1894, may wrap its last bouquet on Franklin Avenue for the same reason. Owner John Tornatore says he expects his tax bill to nearly double - from $9,800 last year to $18,000 next year.
Hundreds of small-business owners across the city are facing dramatic increases in their bills because of a new tax system, the result of a long-delayed revaluation, that is taking effect this year.
Taking the hit hard are the city's key commercial corridors - Albany Avenue, Blue Hills Avenue, Park Street, Franklin Avenue, New Britain Avenue and Broad Street, where many property owners will see their taxes nearly double next year; some could even see their taxes triple.
It has left many merchants uncertain about their future in the city.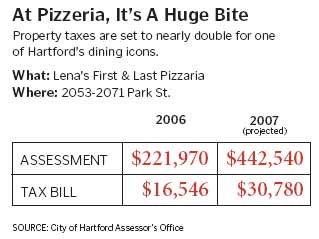 The problem could squeeze the life from Hartford's economic marrow - shuttering bakeries, auto shops, gas stations, hair salons, pizza parlors, supermarkets, pharmacies, clothing shops, laundromats, florists and coffeehouses.
"What are they trying to do to us?" Folson asked. "They make us tighten our belts so hard, we can't even put clothing on our own back or food on our own table. ... It just doesn't make any sense. We are not making money as it is."
Paul Mozzicato, co-owner of Mozzicato Bakery & Pastry Shop on Franklin Avenue, is one of several small-business owners trying to organize that group to fight for some tax relief. Hartford's core identity is at stake, he said, with long-standing family businesses from varying ethnic backgrounds facing possible shutdown.
"Once you lose that uniqueness, there is no re-creating it," he said. "If you tear away that fabric that binds us, there is no replacing it."
The staggering increases are the result of a 2006 revaluation of Hartford property - done after years of postponing it.
Because residential property values climbed much more steeply than commercial values, the revaluation threatened to hit homeowners especially hard. With no changes to state law governing how a city can tax its property, homeowners would have shouldered a significantly larger share of the tax burden - in some cases driving up residential taxes by more than 100 percent.
That left the city's elected officials in a bind.
After months of fighting between city hall and Hartford's legislative delegation, the General Assembly approved a new five-year law designed to ease the burden on homeowners, while at the same time reducing a long-existing 15 percent surcharge on commercial property.
That allowed the city to use its new property values, but limited the additional tax hit taken by homeowners to 3.5 percent a year.
But there were unforeseen consequences - particularly to small businesses.
With residential property taxes capped by the new law, commercial property would have to pick up the slack. And because small businesses were seeing their property values rise faster than the high-rise office complexes downtown, the tax load shifted disproportionately to the little guys.
A specific class of commercial property - about 200 mixed-use businesses with three or fewer apartments above - stands to be hit the hardest. Although the city has not yet adopted a final budget for the coming fiscal year, the projections for the new tax bills are based on the mayor's recommended spending plan.
One of the businesses facing a big hit is Lena's First & Last Pizzeria in the city's Parkville section, co-owned by Dolores Sullivan and her son, Darrell. Their taxes could nearly double, according to city records.

"You might as well close my door," Dolores Sullivan said. "In fact, it could shut a lot of doors. ... It's just horrific."
Tornatore said closing his florist shop in Hartford, while not his wish, would be simple. Most of his business is done by phone, and he already has another location in Rocky Hill.

"I can move tomorrow, easily," he said. "I don't have to search for a new location."
And moving might make sense from an economic standpoint, he said.
"The biggest thing is we don't get anything from the city," he said. "They don't collect our garbage. We have to argue to get police protection. We don't get our streets swept. We don't get good snow plowing. My drivers, they spend the first half-hour every day cleaning my property in front and across the street because there is so much trash out on the street each day."
As the businesses rally together - more than two dozen held an "emergency" strategy meeting Thursday - the city's elected officials are scrambling to try to find a solution.
With the city poised to adopt a $517 million budget for the coming year, some businesses are calling for a moratorium on the revaluation and spending a year to study it further.
Matt Hennessy, chief of staff to Mayor Eddie A. Perez, said city officials have been aware of the problem for at least a month and are working on it. In an April letter to the city's legislative delegation, Perez called on lawmakers to fix the flaw in the law.
"We still need a long-term solution," Perez said at the time. "However, I don't think that small-business owners who pay their taxes, employ residents and provide a good quality of life for our residents should bear an unfair burden under our present law."
The mayor, members of the city council and the city's legislative delegation are expected to meet with businesses Tuesday to discuss options.
Reprinted with permission of the Hartford Courant. To view other stories on this topic, search the Hartford Courant Archives at http://www.courant.com/archives.