Local Property Levy Hikes Would Be Limited To 3%
March 29, 2007
By CHRISTOPHER KEATING, Capitol Bureau Chief
In a historic move that caught legislators off guard, Gov. M. Jodi Rell proposed Wednesday that local property tax increases be capped at 3 percent annually - except in extraordinary circumstances.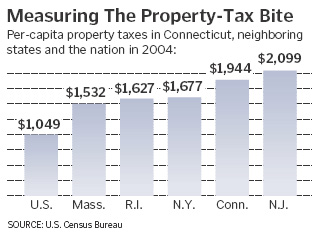 She said the proposal would ensure that property owners get relief from her plan to improve public schools by pouring unprecedented amounts of state money into all 169 cities and towns. Local property tax increases across the state have averaged 6 percent annually over the past five years, Rell said.

Critics said a statutory cap could throw municipal finances into chaos, usurping local control over spending and perhaps threatening municipal services in communities across the state.
The governor's proposal is designed to go hand-in-hand with her five-year, $3.4 billion education plan. She said relief from spiraling property taxes was long overdue.
"There is going to be a property tax revolt in this state if real action is not taken, and the people will be right to revolt," Rell said. "No more talk. No more studies. We're well aware of the need for property tax reform - as government leaders and as taxpayers ourselves. Now is the time to get it done."
Her plan would allow communities to override the 3-percent cap if two-thirds of a city or town council approved a referendum and a simple majority of voters approved a larger increase.
Democrats immediately trashed the plan, saying it would unnecessarily tie the hands of mayors and first selectmen.
House Speaker James Amann, D-Milford, dismissed the concept as "mumbo jumbo" and said it would not be approved. He particularly questioned Rell's provision for override referendums.
"This plan, in my opinion, would create chaos, more bureaucracy and threaten basic services in every town," Amann said. "Can you imagine 169 towns holding referendums on taxes? I do not know how the governor can justify proposing a cap on the municipalities when the state can't abide by one. ... This would just be, in my opinion, a tax-warfare bloodbath in every community."
Democrats will have a lot to say about the plan, as well as Rell's $17.5 billion proposed budget, because they hold veto-proof majorities in both chambers of the legislature.
The Democrats complained that the proposed tax cap would be a profound change in public policy and should not have been proposed with barely two months left in the legislative session.
But Rell's budget director, Robert Genuario, said her fiscal team had spent recent weeks studying tax limits in other states, recalculating the numbers in the proposal, and preparing a 22-page summary of the major highlights. Overall, 43 states have some limits on property taxes or spending, and 29 have a limit on property tax increases.
Upon hearing the Democratic criticism, Republicans said the governor was willing to try to resolve the issue.
"It has been the mantra of the Democratic leadership to do this for years," Genuario said. "It's time for them to step up to the plate on property tax reform. Would they rather just keep the issue and not solve the problem? Or do they want to blame the millionaires in Greenwich?"
House Republican leader Lawrence Cafero of Norwalk said Democrats have been banging the property-tax drum for years in a variety of campaigns at the local and state levels - including the 1994 and 2002 gubernatorial campaigns of Bill Curry.
"For 15 years, in every gubernatorial race, every single time we've run for office, we've heard from our friends on the other side of the aisle about property-tax reform," Cafero said. "This is the first time in my knowledge, and I believe in the state's history, that someone has put forward an actual plan, an actual formula, to control the spending in our municipalities and therefore reform the way we tax our property on a local level. And for that, I think she deserves huge kudos."
The major lobbyist for the cities and towns, the Connecticut Conference of Municipalities, issued a cautious statement that described Rell's proposals as "intriguing," "interesting," and in need of further study.
"A one-size-fits-all property tax cap," CCM said, "will hold municipalities and property taxpayers even more hostage to the vagaries of state aid, and the past shows us too often that state aid commitments have been made and then broken."
Besides the local override by the voters, Rell's plan allows three other exceptions to the cap of 3-percent increases:
Emergencies: disasters such as hurricanes, massive fires or other catastrophes.

Debt service: Huge expenses, such as a new sewer plant, would be exempted from the total.
Grand list growth: If the local list of all taxable property grows by more than 1.5 percent, such as for building hundreds of homes, the tax limit could be exceeded.

Connecticut ranks behind only New Jersey for the highest property taxes per capita in the country, and those taxes are 85 percent above the U.S. average, officials said.
Democrats complained that they had not yet seen a detailed bill, saying that Rell's 22 pages of highlights were not enough.
"There's no legislation that is being proposed," said Rep. Cameron Staples, a New Haven Democrat who co-chairs the tax-writing finance committee. "It's a series of bullet points in a press release."
Senate Majority Leader Martin Looney, a New Haven Democrat, said the plan should have been released seven weeks ago when Rell delivered her budget address.
"I'm surprised at the sketchiness of a proposal that has been so long in gestation," Looney said. "It really is waiting a long time for the other shoe to drop."
Noting the historic nature of the proposal, Rell said she purposely decided to deliver her announcement at the State Supreme Court building in a room filled with the portraits of Connecticut's governors. Rell normally speaks to reporters either in a room at the state Capitol complex or in a hallway after a meeting or appearance.
On Wednesday, though, she stood behind a lectern that carried the governor's seal, with Lt. Gov. Michael Fedele and Genuario standing nearby.
"Today, I am making history," Rell declared to a group of reporters, Republican staff members, and others. "The two most important things in this measure is we are absolutely asking for accountability in education ... and the second thing is we want it tied to property tax relief."
Reprinted with permission of the Hartford Courant. To view other stories on this topic, search the Hartford Courant Archives at http://www.courant.com/archives.