May 1, 2007
By HILARY WALDMAN, Courant Staff Writer
A year ago, the state overhauled its pediatric mental health care system in an effort to ease gridlock in hospitals and improve care.
Two weeks ago, children with psychiatric problems jammed 17 of 23 beds in the emergency room at Connecticut Children's Medical Center.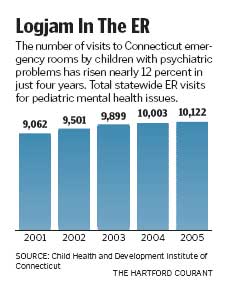 While state officials promise that large infusions of money will finally open up more treatment services for children this year, the logjams are continuing. Today, the Child Health and Development Institute of Connecticut plans to release a report showing an 11 percent increase in emergency room visits by children with psychiatric problems from 2001 to 2005.
The increases occurred even as the state was rolling out KidCare, a program that was supposed to expand community mental health programs to divert troubled children and teens from overcrowded emergency rooms.
Last year, the state turned over its $200 million mental health program for poor and troubled youth to ValueOptions Inc., a Norfolk, Va.-based behavioral health management company. The consolidation is supposed to lead to more coordinated and streamlined treatment aimed at averting crises before children need expensive emergency room or inpatient care.
The nonprofit child health and development institute plans a symposium at the Capitol today to release its report and draw attention to continuing problems in mental health care for children - both those in state custody and others living with their families.
"The problem seemed to be getting worse, particularly at Connecticut Children's Medical Center," said Judith Meyers, president and chief executive officer of the child development institute.
One evening two weeks ago, for example, the children's hospital emergency room was so packed with psychiatric cases that children with minor physical ailments such as fever, sore throats or skin rashes waited up to six hours to see a doctor, said Dr. Paul Dworkin, the hospital's physician in chief.
"People were leaving," before they got care, Dworkin said.
While Dworkin called the evening when 17 children were waiting for mental health services "stunning," he said it is not unusual for 10 children or adolescents needing psychiatric care to stack up in the emergency room.
Brian E. Mattiello, acting commissioner of the state Department of Children and Families, acknowledged that problems continue despite tremendous increases in state resources.
"Emergency departments always will be asked to respond to crises, but when stays are too long, kids' needs go unmet," Mattiello said in a prepared statement. "While this is a longstanding problem and some important steps have taken place, recent experience has pointed to continuing inadequacies."
Dworkin said he is optimistic about systems changes that the state says will finally reduce emergency room gridlock within the coming year.
These include:

Expansion of state-paid mobile crisis intervention teams. At busy times, these trained teams of mental health clinicians could be on call or posted in emergency rooms. They could also respond to emergencies in the community, eliminating the need for hospital visits.

Using mobile crisis teams to make home visits that could bridge the gap between hospital discharge and hook-up with outpatient services. Sometimes, children do not need inpatient care, but are too unstable to go home without support. In this limbo, they can languish in the emergency room. Children who are sent home can wait weeks for an outpatient appointment, increasing the chances that their conditions will deteriorate.

Increasing state payments to outpatient clinics so they can beef up their staffs. Clinics that get the extra money would be required to see patients in crisis within two hours and schedule routine appointments within two weeks of an initial call. The extra clinic capacity is expected to be available starting in September.

Creating an emergency overflow unit at Hartford Hospital's Institute of Living that would accept children who face long waits in emergency rooms, freeing up beds for patients with physical ailments.
Today's symposium is from 8:30 a.m. to noon in Room 310 of the state Capitol.
Reprinted with permission of the Hartford Courant. To view other stories on this topic, search the Hartford Courant Archives at http://www.courant.com/archives.