Study: White, Black, Hispanic Students Don't Face Same Behavior Problems
April 7, 2007
By COLIN POITRAS, Courant Staff Writer
White teenagers in Connecticut are more likely to smoke cigarettes, binge drink and drive while under the influence of alcohol.
Black and Hispanic teens are more likely to engage in risky sexual behavior, feel depressed, fail to wear seat belts and be overweight.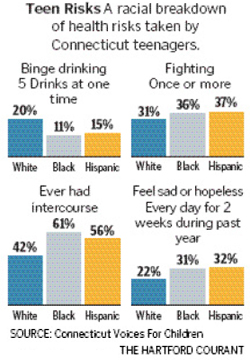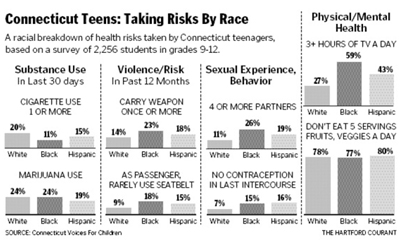 The latest analysis of behavior among Connecticut high school students, released by the New Haven nonprofit Connecticut Voices for Children, marked the first time racial and ethnic differences were explored using the data.
"Some risk taking is a normal part of adolescent development," said Priscilla Canny, Connecticut Voices' director of research and the study's co-author. "Knowing more about the unhealthy risk behaviors of different communities of youth will help to more effectively target our education and prevention programs."
The report is based on an analysis of the 2005 Connecticut School Health Survey, a review of health behavior among 2,256 Connecticut students in grades 9-12. The survey is administered by the state public health and education departments.
Key findings include:
White students are twice as likely to drive drunk as non-white teens.

The white teens are also 1.6 times more likely to binge drink.

The percentage of white students who smoke cigarettes is twice as high as the percentage of black students, and 1.5 times higher than Hispanic students.

Black and Hispanic teens are more likely than white teens to have had sexual intercourse, four or more sexual partners and engage in sexual intercourse before the age of 13.

About 32 percent of Hispanic and black students reported feeling depressed, compared with 22 percent of white students.

About one-third of black and Hispanic students are overweight or at risk of being overweight, compared with about one-quarter of white students.
The study also found that better performance in school and increased parental involvement are linked to reduced prospects of high risk behaviors.
For example, students whose parents knew their whereabouts were significantly less likely to smoke, binge drink, have early sex and engage in fighting.
But students earning mostly C's, D's and F's were more than twice as likely as students earning mostly A's and B's to have had four or more sexual partners, researchers said.
Connecticut Voices released the survey results with the intent of encouraging state legislators and policymakers to invest in more health and prevention initiatives in targeted areas.
For instance, programs encouraging delayed childbearing are needed more in communities of color, while alcohol and tobacco prevention programs are important for white youths, Canny said.
To reduce motor-vehicle-related injuries and fatalities - the leading cause of mortality among adolescents - Connecticut should target seat belt awareness programs for black and Hispanic youths who are less likely to wear a seat belt when someone else is driving, Canny said.
Reprinted with permission of the Hartford Courant. To view other stories on this topic, search the Hartford Courant Archives at http://www.courant.com/archives.