Assembly Rejects Bill Governing Payment
June 8, 2007
By DANIEL E. GOREN, Courant Staff Writer
The burden of paying for a $1.6 billion Metropolitan District Commission sewer upgrade project could end up flooding local property tax bills, unless legislation that failed to pass in the General Assembly's regular session is revived in a special session.
The legislature rejected a bill Wednesday that would have authorized the MDC to pay for the massive project through a consumption-based surcharge on its customers' water bills.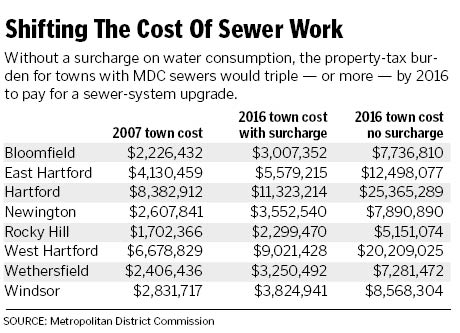 Absent that option, MDC officials on Thursday said they would return to their old system of paying for the project - by linking the charge to local property taxes.
As a result, some of the MDC's eight member towns could see their sewer costs triple over the next 10 years, an increase that they say could financially cripple many of the towns.
"It would be an extremely difficult burden to manage, there is no question about it," said Lee Erdmann, Hartford's chief operating officer. "We are under incredible fiscal stress as it is. To add this on top of it ... it means something else has to give."
The MDC and its member towns - Hartford, West Hartford, East Hartford, Newington, Wethersfield, Rocky Hill, Windsor and Bloomfield - are under federal and state mandate to fix the region's ailing sewers, which dump untreated sewage into area rivers, streets and basements during about 50 heavy rains a year.
Two Democratic Hartford legislators, state Rep. Art Feltman and Sen. Eric Coleman, had attached language to the bill requiring a certain amount of the work for the $1.6 billion project be set aside for minorities and ex-felons.
MDC officials opposed the language, saying it set unattainable quotas for hiring without knowing how many qualified and licensed minority contractors are available in Hartford. They said the MDC is committed to affirmative action, but said the bill, as written, could jeopardize the bonds the district needs to finance the project.
But without a change in state law, the MDC can't assess a surcharge based on water use. And without another way to pay for the project, the MDC's smaller member towns could face ballooning sewer assessments that could grow larger than many towns' police budgets, said Jeff Wright, an MDC commissioner from Newington.
"There is no way we can sustain these types of increases," Wright said.
Voters approved the first $800 million installment of the project last year. At the same time, the MDC sought legislative approval for a new way to pay for the project, using a consumption-based charge.
Now, with the regular legislative session over, the bill's last life may come in a special session.
State Rep. David McCluskey of West Hartford, whose staunch opposition helped quash the bill during the regular session, said Thursday he is open to revisiting the issue.
"I think it could still be alive, if we can get together on it," he said.
And Feltman, who said Thursday he found it curious that the minority set-aside provisions did not have any opposition until the last minute, was also hopeful his suburban colleagues would reconsider their position.
Assuring work for minorities and rehabilitated felons is too important to ignore, he said.
"I'm sticking to my guns," Feltman said.
Reprinted with permission of the Hartford Courant. To view other stories on this topic, search the Hartford Courant Archives at http://www.courant.com/archives.