Fourth Year Of Federal Warnings For Mostly Urban School Systems
October 27, 2006
By ROBERT A. FRAHM, Courant Staff Writer
For the fourth year in a row, a dozen school districts, including those in the state's largest cities, landed on an academic warning list Thursday because too many of their students failed to meet proficiency standards in reading or mathematics or both.
Those districts now face potential shake-ups as they review curriculum or look for other ways to bolster academic performance among their overall student populations under requirements of the federal No Child Left Behind Act.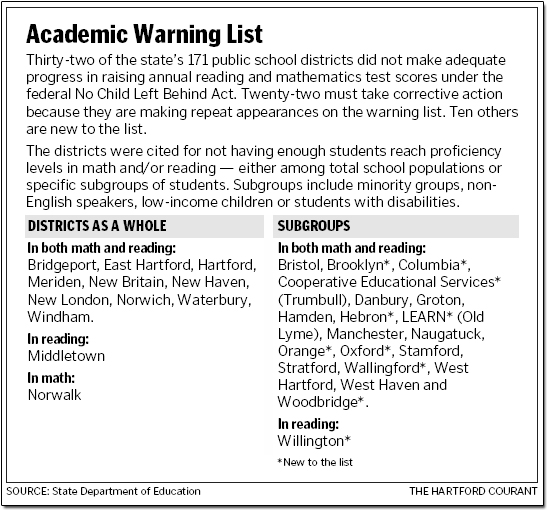 The list held few surprises. The 12 districts cited for overall lack of progress for four consecutive years are among the state's largest and poorest school systems, enrolling children from communities such as Hartford, Bridgeport and New Haven.
"These are our most vulnerable students," said interim state Education Commissioner George A. Coleman. "They need our help the most, and we have to do more for them."
Nine other districts also could face significant change because, after four years, they have been unable to make adequate progress with specific groups of students such as disabled children, racial minorities or non-English-speaking students.
Other districts also were cited but do not yet face corrective measures because they are on the warning list for the first time.
Overall, 32 of the state's 171 school districts failed to have enough students - either in the overall student population or in specific subgroups - meeting proficiency levels on the Connecticut Mastery Test in grades 3 through 8 or the Connecticut Academic Performance Test in Grade 10.
Eleven school districts were removed from the warning list because they made adequate progress for two consecutive years. They are Bloomfield, East Haven, Killingly, Milford, New Milford, North Haven, Plainville, Seymour, Southington, Stafford and Windsor Locks.
"Particularly in elementary grades we're seeing some real sizable gains," said David Title, superintendent of schools in Bloomfield, where schools have updated curriculum, reduced class sizes and hired teaching coaches to assist with math and reading in elementary schools.
"I know principals and teachers have really been focused on this, and it's great to be publicly recognized for it," he said. "It's really hard to do."
No Child Left Behind, the centerpiece of President Bush's school reform agenda, calls for a shake-up of schools that receive federal Title I money and don't make adequate progress for two or more years in a row. A school or district can be cited if even one group of students fails to meet standards.
Under No Child Left Behind, districts that have not made adequate progress after four years face corrective measures such as revamping curriculum, replacing staff, extending school hours or bringing in outside experts.
In New Britain, for example, the school system has hired an Illinois-based consulting group, the National Study of School Evaluation, to strengthen school improvement plans, including steps such as revising curriculum, said Assistant Superintendent Jeffrey Mulqueen.
"When students come to us, not all are proficient in reading and writing, and many don't speak English," he said.
One district, West Hartford, was on the academic warning list for the third year in a row because some specific groups of students missed proficiency standards. Not enough special education students met the mathematics standard on the 10th-grade test, for example, said Chip Ward, the district's senior planner.
Reprinted with permission of the Hartford Courant. To view other stories on this topic, search the Hartford Courant Archives at http://www.courant.com/archives.