October 25, 2006
By ROBERT A. FRAHM, Courant Staff Writer
A report Tuesday that found annual tuition costs continue to outpace inflation at America's four-year colleges comes as troublesome - but not surprising - news to those already paying the bills, such as the Schectman family.
"We don't have the personal funds to handle these kinds of expenses," said Robert Schectman, whose daughter attends the University of Hartford and whose son, a senior at Windsor High School, is thinking about college next year.

"It certainly is a much more difficult undertaking than we thought it would be," Schectman said.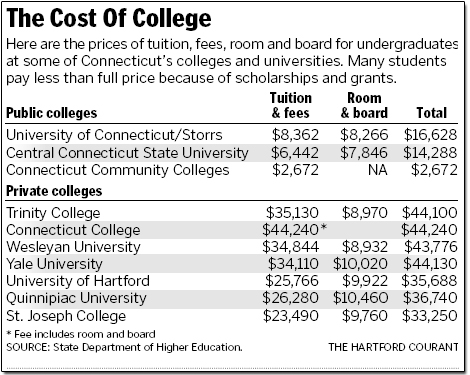 And it's showing no signs of getting easier.
College is a growing financial burden for families across the nation as prices rise while federal scholarships and grants fail to keep pace with inflation, the College Board said in its annual report on college costs.
Although the rate of growth has slowed for the third year in a row, average tuition and fees at public four-year colleges are up 35 percent from five years ago after adjusting for inflation, the report said.
Here are some of the key findings:
Average tuition and fees at four-year private colleges rose to $22,218, an increase of 5.9 percent, or 2 percent after adjusting for inflation. Total costs averaged $30,367.
The nation's four-year public colleges raised average tuition and fees to $5,836 this year, a one-year jump of 6.3 percent - or 2.4 percent after adjusting for inflation. The average overall cost, including room and board, rose to $12,796.
Two-year colleges remained by far the least expensive, with tuition and fees averaging $2,272, a 4.1 percent increase, less than half a percentage point more than inflation.
College prices vary widely from one region to another, with New England's four-year colleges posting the highest average prices - $15,269 for tuition, fees, room and board at public colleges and $38,112 at private colleges.
The high cost of attending college in New England has been documented elsewhere. On another recent national report, the National Center for Public Policy and Higher Education awarded Connecticut high marks for preparing and enrolling students in college but gave the state an "F" on college affordability.
"We know compared to other states we are high cost," said state Higher Education Commissioner Valerie F. Lewis. She said Tuesday's report underlines the need to increase financial aid to students who need it.
Officials note that sticker prices often are misleading because many students - about two-thirds of full-time students, according to the report - receive scholarships and grants that reduce the full price.
Still, according to the College Board, low-income and middle-income students often face significant hurdles in paying for higher education - even with financial aid.
"Neither student aid funds nor family incomes are keeping pace with college prices," said College Board President Gaston Caperton, who called for more financial aid to needy students.
For the first time in six years, for example, the federal government's spending on Pell Grants declined this year, the report said, with the average Pell Grant at $2,354, down $120 from a year ago. The report also cites other factors contributing to the cost of college, including the extra cost for students who take noncredit remedial courses or who spend as much as five or six years to earn their degrees.
At a press conference in Washington, college officials said higher education costs remain a significant barrier, especially to low-income families.
"Talented low-income kids are underrepresented at selective colleges," said Catharine Bond Hill, president of Vassar College. "They have the academic credentials to be there, and they are not there."
Some educators say the price of college is causing a shift in enrollments, with more students opting for two-year community colleges instead of more expensive four-year schools.
Lattoya Hales, 20, of Hartford, said cost was a major reason she chose to enroll in Capital Community College in Hartford, where annual tuition and fees are $2,672. "Financial aid pretty much covers all of that," said Hales, a social services major who plans to transfer to Central Connecticut State University next year.
When federal grants and tax benefits are taken into account, two-year colleges actually cost less in inflation-adjusted dollars than they did a decade ago, according to the College Board report.
Reprinted with permission of the Hartford Courant. To view other stories on this topic, search the Hartford Courant Archives at http://www.courant.com/archives.