Taxpayers Willing, For Now, To Pay For Increased Services
October 25, 2006
By JEFFREY B. COHEN, Courant Staff Writer
Downtown Hartford property owners overwhelmingly approved a plan to raise their taxes and make for cleaner and safer streets Tuesday, but the work of delivering on the plan's promise may well be harder than selling the promise itself.
"We still have to prove that there's real value to paying" higher taxes, said R. Nelson "Oz" Griebel, head of the MetroHartford Alliance and a proponent of the plan. "The real hard work is before us."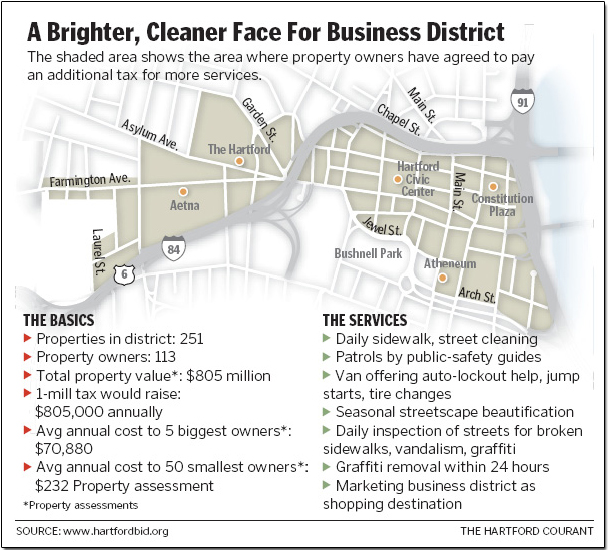 The balloting that ended Tuesday asked the owners of 251 properties in the downtown and part of Asylum Hill to pay more money for enhanced services - including street cleaning, hospitality guides, and public relations. Many cities use "business improvement districts" to improve services in downtown areas.
Lawrence R. Gottesdiener - owner of a new, 36-story apartment tower, downtown's largest landowner, and a longtime supporter of the idea - said that while the plan has risks, they are worth it for a city betting on a resurgence.
"It costs money, and it costs money in an already high-cost jurisdiction," Gottesdiener said. "But when they've been done properly in other cities, they have been very effective. ... We're putting our money where our mouth is."
The district is not unique in Connecticut. Similar initiatives have been launched in Bridgeport, Stamford, New Britain and elsewhere.
In order to pass, the voting needed to hit two benchmarks. First, a majority of the owners of the 251 properties had to vote in favor of the plan; 70 percent did. Second, owners of half of the district's $805 million in assessed property value had to vote in favor; owners of properties that made up 78 percent of that value did.
The voting was the result of more than a year-and-a-half of lobbying major property owners toward the cause. Some investor-owners had to be convinced that higher operating costs made sense; some national corporations had to be convinced that their local neighborhood was worth improving; and most property owners had to be assured that the district would be held accountable for its results.
That's why there is a clause built into the ordinance that has it go away after three years. The members of the district can also move to dissolve the district at any time if they lose confidence, officials said.
But, for now, there is support.
M. Ronald Morneault, head of Business for Downtown Hartford, lobbied hard for the district and said the cost of the plan to the average downtown business owner - either one who owns the building where the business is or who rents and has the cost of the increased tax passed down - is a steal.
"If my landlord passed along $280 to me and said you were going to see nine new patrolling security and hospitality people and nine new street cleaners and that there was going to be marketing money, all for $280 bucks, I'd say you've got to be kidding me," he said.
By ordinance, the district can raise no more than 1 mill's worth of taxes from its property owners. That would translate into roughly $805,000 a year to run the district.
Using that figure, the average annual payment to the district by the top five property owners would be $70,880; the average annual payment to the district by the bottom 50 property owners would be $232.
Next, the district will hold a meeting of property owners to elect a board of commissioners that will then decide which services to provide and how much to pay for them.
Several developers were cautious and optimistic.
Developer Martin J. Kenny, who owns the Trumbull on the Park apartment complex, wouldn't say how he voted. Conceptually it makes sense, he said. "I'm just worried that it supports a whole myriad of bureaucracies," he said. "From what I've been told, it's going to be streamlined, and that's great."
Michael Grunberg, who owns buildings known as the Bank of America building and the nearby Prudential building, said he voted for the district and that the benefit justifies the cost. He added that the district will also give property owners the ability to speak with one voice when it comes to dealing with the city.
Marc Levine - owner of properties including the Sage-Allen apartment and retail project; the neighboring Richardson building, which is home to a Marriott Residence Inn; and Artspace Hartford at 555 Asylum - said he voted for the district.
"Everything they're talking about is beneficial to us," he said. "We just have to wrestle with the budgetary questions."
Griebel said he anticipated the good result Tuesday and added that skepticism from property owners is healthy.
"There is a leap of faith that everybody has to take, that if we're right, their property value would be enhanced," Griebel said. "If we're wrong, [property owners] are out of pocket for one mill for up to three years."
"But it's not like we're the first ones to do this and we're jumping off into the great abyss," he said.
Reprinted with permission of the Hartford Courant. To view other stories on this topic, search the Hartford Courant Archives at http://www.courant.com/archives.