August 29, 2006
By JEFFREY B. COHEN, Courant Staff Writer
A developer's plan to take a 12-story, city-owned building just blocks from Hartford's Bushnell Park and turn it into a few dozen luxury condominiums has collapsed - a victim of the project's small size, high remediation costs and the rising cost of construction.
Although the high-profile fall of the 101 Pearl St. project comes at a time of rapid growth in the downtown housing market, city officials and analysts say the project's demise is probably a function of its own set of circumstances and should not be seen as indicative of a wholesale softening of the downtown housing market.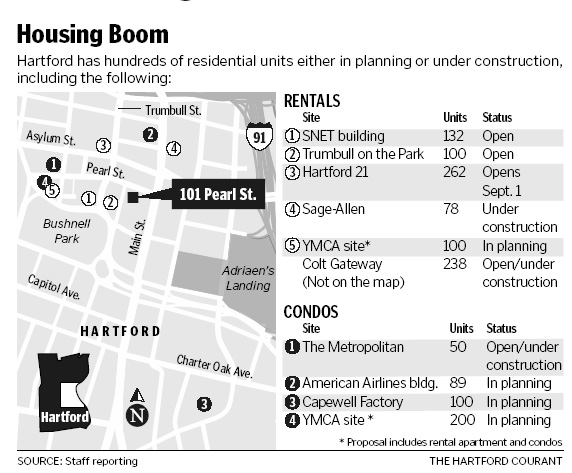 "Hartford is still doing well," said Barry Rosa, a vice president for Prudential Connecticut Realty. Although the housing market, in general, has slowed, Hartford's single-family home numbers remain strong, Rosa said.
Still, the cost of materials is having its effect, said Curtiss B. Clemens Sr. of Century 21 Clemens & Sons Realty Inc.
"Sheetrock went way up. Concrete is way up. Electrical stuff like wiring, plumbing - all that stuff that takes any type of oil has gone up dramatically," Clemens said. "It doesn't surprise me that at this point in time, some of these projects aren't going forward because of these costs."
But Clemens said he also wonders if there is enough demand to fill the hundreds of apartments and condos recently opened or under construction in downtown Hartford.
"In my opinion, and this is my opinion, I think some people are looking at this market and thinking, `Aren't we becoming oversaturated?'"
The city, hoping to put market-rate housing into a 40-year-old office building, last summer selected a proposal by Full Spectrum LLC of New York to build 30 to 40 units of luxury condominiums.
But the developer's initial work found an unexpectedly large asbestos problem in the building that would have led to a cleanup price as high as $2 million. In January, the city council agreed to drop its asking price for the building from $1.2 million to $400,000.
Materials and labor costs also became a problem, driving the project's roughly $14 million budget up 25 percent, said John F. Palmieri, the city's director of development services.
By late July, the developer had not resolved the building's asbestos problem; in early August, the city terminated its agreement with Full Spectrum, officials said. The city is now evaluating its options for the building.
"The real burden was the cost of the construction," Palmieri said. "Any project you might want to talk about now in the city ... contractors are adding a 15 percent surcharge associated with the cost of materials."
Officials at Full Spectrum did not return several calls for comment.
While some may be wondering whether downtown Hartford is starting to have its fill of new housing, Palmieri - who has said he believes downtown could support 4,000 or 5,000 units - said he doesn't wonder at all.
"There's a special demand for the right kind of housing in the city," he said.
Rosa, of Prudential, said that a problem with a project of modest size is that the economy of scale begins to shrink pretty quickly. The 101 Pearl St. building is 100,000 square feet.
"That's not that big of a building," Rosa said. "You'd have to be able to sell condos for a pretty good number [to make money]."
Bill Ferrigno, president of the Homebuilders Association of Connecticut, said he knows the builders' bind as they are faced with rising materials costs.
"If you look at the price for copper, it could be as much as 400 percent higher than it was last year at this time," Ferrigno said. "My electrician is charging me about 20 percent more for my houses than he did six months ago, just because of copper."
"In my career, which spans almost 30 years, this is the first time I've seen this kind of across-the-board, pervasive price increases," he said.
The city originally received seven responses from developers interested in the building.
Reprinted with permission of the Hartford Courant. To view other stories on this topic, search the Hartford Courant Archives at http://www.courant.com/archives.